Yennegu Hennigu Lyrics from the Kannada movie 'Ek Love Ya' featuring Rachita Ram, Raana is an overwhelming song, and it has ravishing song words hummed by Kailash Kher, Mangli. The smashing lyrics of the Yennegu Hennigu song are documented by Showman Prem's. Arjun Janya is the arranger of YENNEGU HENNIGU's peachy music. The mind-altering music video of the chant is commanded by Prem.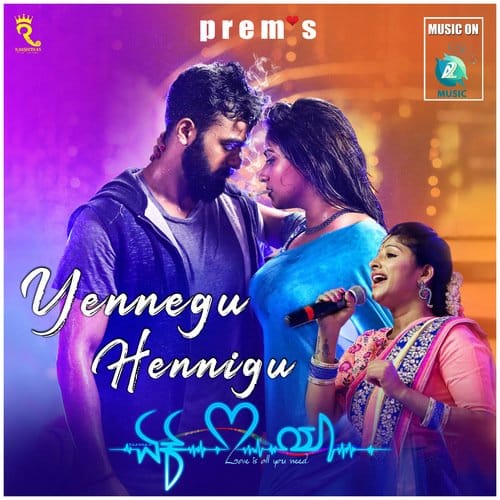 EK LOVE YA KANNADA MOVIE · YENNEGU HENNIGU FULL SONG LYRICS
Arey Yennegu Hennigu Hey Yennegu Hennigu,
Yellinda Link-itte Helo Bhagavantha,
Bar Alli Henmaklu Kudiyodhu Thappantha,
Yarana Board Hakavra,
Ayo Namgunu Love Alli Break Up Agaiithe,
Ondheredu Peg Haktheera,
Shivane Ondheredu Peg Haktheera Of Course,
Yennegu Hennigu Yennegu Hennigu Oh My God,
Yellinda Link Itte Helo Bhagavantha,
Ore Haiyo Re Haiyo Re Haiyo Re Haiyo Ayyi Ayyi Yo
Facebook-al Request Kalstheera,
Whatsapp-u Number Keltheera,
Status-al Single Antha Haktheera,
Neevene Signal Ukodtheera,
Meeting Madalva Antheera,
Madudhre I Love You Heltheera,
Karud Thakshna Yakadru Bartheera,
Bandmele Dove Madkondirtheera,
Long-drive Hogana Antheera,
Parking-al Car Ah Haktheera,
Hane Bhashe Kodtheera,
Neevilde Bhadukalla Antheera,
Hong Inge Kusuradi Bedappa Anthandru,
Ellanu Madtheeralla,
Ayo Belegedhu Meet Agi Madyana Touch-agi,
Sanjege End Aithalla Love Se Alle Mugudoithalla,
Yennegu Hennigu Yennegu Hennigu,
Yellinda Link Itte Hello Bhagavantha,
Love Failure Ankondu Oorgella Sartidre,
Nov Ella Marthoithada,
Sikilla Anbittu Suicide Ah Madkondre,
Ellanu Sari Hoi Thada Ayayo Saybedrppo,
Hutsid Devru Hull Meysthanappo,
Innoblu Sighalappo Don't Worry Innoblu Sigthalappo,
Ninbitre Yarilla Antheera,
Gypalle Nnoblun Nodtheera Re,
Doubt-biddu Yakange Saytheera,
Nodange Neeve Madtheera,
Konethanka Irthini Antheera,
Centre Alle Kai Bittu Hogtheera,
Ayo Angantha Yav Bhayal Heltheera,
Hudugeerna Devdasu Anthara,
Neev Eshte Hudugeerna Nodudru,
Elrunnu Friend-se Antheera,
Nav Obbun Jothe Mathadidhru,
Namele Doubt Yake Beeltheera,
Bathroom-al Snana-va Maduva Time Allu,
Selfie Na Keltheeralla,
Ayo Bedappa Leak Agi Troll Aytadathandre,
Break Up Eh Anthiralla Love Selfie Le Mugudhoythalla,
Yennegu Hennigu Arre Yennegu Hennigu,
Yellinda Link Itte Hello Bhagavantha Hey Bhagavantha
Ore Haiyo Re Haiyo Re Haiyo Re Haiyo Ayyi Ayyi Yo.

Ek Love Ya Film's Yennegu Hennigu Music Video | Rachita Ram | Raana
Check out the popular music video for Yennegu Hennigu from a mind-altering movie Ek Love Ya.
Let's play Yennegu Hennigu Song Lyrics that Kailash Kher, Mangli tastefully crooned and are featured in the Ek Love Ya film of Raana, Rachita Ram . Showman Prem's has scripted the Yennegu Hennigu Kannada lyrics and Prem controlthe music video.