Aadavallu Meeku Joharlu Title Song Lyrics from the Telugu movie 'Aadavallu Meeku Johaarlu' featuring Rashmika Mandanna, Sharwanand is a cute song, and it has perfect verbals by Devi Sri Prasad. The luscious lyrics of the Aadavallu Meeku Joharlu Title Song anthem are jotted down by Shreemani. Devi Sri Prasad is the director of AADAVALLU MEEKU JOHARLU TITLE SONG's sweet-tempered music. The grateful music video of the warble is focused by Tirumala Kishore.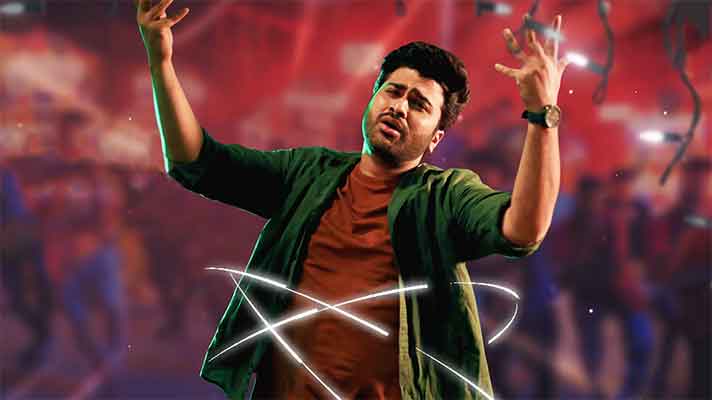 DEVI SRI PRASAD · AADAVALLU MEEKU JOHARLU MOVIE TITLE SONG FULL SONG LYRICS
Hey Lakshamammo Padmammo, Shanthammo Sharadammo,
Gourammo Krishnammo Na Badhe Vinavammo,
Ee Gole Endhammo Egole Chalammo,
Olammo Please Ammo, Na Bathuke Buggayenammo,
Nee Mogudemanna Mahesh Baba,
Poni Andanikemaina Baba,
Chela Kapuram Chela Kanla Iddharni Kanla
Poni Nuvemanna Katrina Kaifa
Nee Choopemanna Guchhe Knife-a
Kani Chela Kapuram Chela,
Meeru Kanla Muggurni Kanla
Meeremo Mogullu Sayanthram Techheti,
Poolanni Jallona Mudisetthara,
Nakemo Ye Poolu Lekunda Sesesi,
Foollaga Mudisetthara,
Prathi Mogadi Vijayam Venaka Adadhi Untadi Antaru,
Kani Na Vijayanni Chedagottadaniki Endaru Adallo,
Adallu Meeku Joharlu, Adallu Meeku Joharlu,
Cinemakelthe Na Age Friendu Pellanni Teesukurada,
Vadu Nanne Choosi Sellemmedhani Anada Mari Anada,
Sayanthramaithe Sandhu Shivara Puvula Kottu Subbanna,
Mallelu Teesukelli Sellelukimmani Veda Joke-Lu Veda
Meeremo Mee Mogudu Ye Paniki Velthunna,
Sirunavulolikinchi Edhurotthara,
Nakemo Edhurochhe Avakasham Ye Pillaki,
Ivaniyakunda Apetthara,
Edhurintlo Enkaya Thathaki Iddharu Pellalu,
Are Lene Ledhu Na Thalarathaki Single Illalu,
Adallu Meeku Joharlu, Adallu Meeku Joharlu,
Muddhulathoti Niddura Lepe Pellam Kavalani Undada,
Dinner Petti Dreams Loki Nette,
Dream-girl Naku Kavalani Pinchada
Thana Ollo Vali Ott Choodali, Ani Nakkooda Undadha
Akali Vesthe Thanako Omelet,
Vealanipinchada Nakanipinchadha
Meeremo Mee Mogudu Pandakki,
Koni Techhe Cheeralni Chuttesi Thirigetthara,
Nenemo O Pattu Seeraina Konakunda,
Na Pelli Hamphattu Sesetthara,
Are Ganthaki Thagga Bonthani Sametha Meere Sebuthare,
Na Range Ki Thagga Pillani Testhe Okay Cheppare,
Adallu Meeku Joharlu, Adallu Meeku Joharlu Ha.

Aadavallu Meeku Joharlu Film Title Song Music Video | Rashmika Mandanna | Sharwanand
Let's play brand-new music video for Aadavallu Meeku Joharlu Title Song from a grateful movie Aadavallu Meeku Johaarlu.
Let's check out Aadavallu Meeku Joharlu Title Song Song Lyrics that Devi Sri Prasad superbly crooned and are featured in the Aadavallu Meeku Johaarlu film of Sharwanand, Rashmika Mandanna . Shreemani has logged the Aadavallu Meeku Joharlu Title Song Telugu lyrics and Tirumala Kishore pointedthe music video.