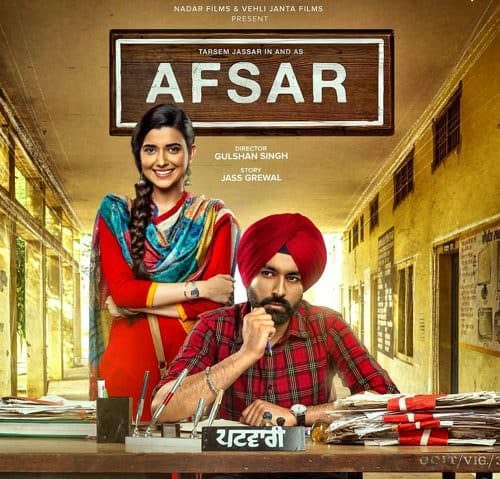 Afsar is a latest Punjabi movie starring Tarsem Jassar and Nimrat Khaira. Get Wikipedia information of movie's whole star cast, songs lyrics and release dates of film afsar.
Movie Credits Information
Movie Full Name
Afsar (2018)
Director
Gulshan Singh
Star Cast
Tarsem Jassar, Nimrat Khaira, Gurpreet Ghuggi, Karamjit Anmol, Rana Jung Bahadur, Pukhraj Bhalla
Film Release Dates
October 5, 2018
Producer(s)
Amiek Virk, Manpreet Johal
Co-Producer(s)
Tung Films, 7T1 Films, Next Level Productions & Harsimran Waraich
Story Writer & Screenplay
Jass Grewal
Dialogues Writer
Jatinder Lall
DOP
Pradeep Khanvilkar
Music Composer(s)
Jaidev Kumar, Preet Hundal, R Guru
Lyrics Writer(s)
Tarsem Jassar, Arjan Dhillon, Harmanjeet & Gurbinder Mann
Edtitor
Manish More
Art Director
Navjot Singh
Sound Design
Prikshit Lalwani, Kunal Mehta
Choreographer
Mehul Gadani
Background Music Score
Gurcharan Singh
Associate Director(s)
Gaurav Babbar, Vikas Vashisht
Chief Assistant Director
Amritpreet Singh
Production Designer
Manish More
Colorist
Prakash Nikharge
Costume Designer
Malvika Bajaj
Line Production
Virasat Films
Post Productions
Varun Bansal
Visual Promotions
Just Right Studioz
Online Promotions
Gold Media Entertainment
Publicity Designs
Ankur Patar
Special Thanks
Harvinder Sidhu, Hobbie Randhawa, Jaspal Sandhu, Yuvraj Tung,, Jaikar Virk, Govinder Mavi
Distribution
OMJEE Group
Music
White Hill Music
Watch Full HD trailer of Afsar Punjabi movie
AFASR FILM SONGS
Track 1
Singer(s): not released
Track 2
Singer(s): not released
Track 3
Singer(s): not released
Track 4
Singer(s): not released
Find out more Movie Songs like '' .