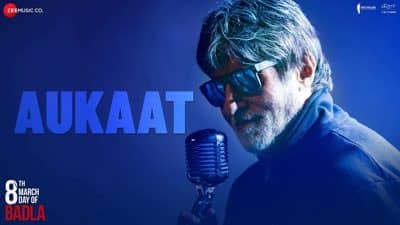 Lyrics to 'Aukat' Hindi song from Badla movie featuring Amitabh Bachchan and Taapsee Pannu featuring Clinton Cerejo, Amit Mishra. Siddhant Kaushal has penned these Hindi verses while he also performed the rap with Jizzy.
BADLA | AUKAAT | SONG LYRICS IN HINDI
Dardnank dhaak ki
Badal de tu khurak re
Mazaak jo udayega
Chamaat de fadaak se
Dar nahi to kis kai
Jo teri teekhi naak ye
Maang bas khuda se
Hausle ki ek shapak re
Cheetiyon ki nasal pe
Dhayan de zara
Jo roke na uthate dana cheeni ka
Aukaat ko badal de
Badal de, badal de
Din hai saat woh badal de
Tera agla pishla
Tu badal leke badla.
Tu doojay nazariye se dekh
Woh dikhenge daanav jo dikh rahe nek
Bheje ko khol samne to dekh
Aise kisi ke saamne bhi matha na tek
Dekh tu upar se, dekh tu right se
Bhap le tu khatra, tu har ek side se
Sikke ka teesra pehlu to dekh
Musibat ko bol, tu khisak le side pe
Masal ka tod akal se de
Tu chhodna kasar nahi
Gaad mat bezzati ke bheech ugegi
Gandi fasal hi gutter si
Jo kale ujale main palti
Phir aage na jaake badalti
Raato ne tujhko jo badla
Tu lele toh khud ka badla
Yun daar ke baith ke na hakkagla
Aukaat ko badal de
Badal de, badal de
Din hai 7 woh badal de
Tera agla pichla
Tu badal le ke badla.
दर्दनाक ढाक की
बदला दे तू खुराक रे
मजाक जो उड़ाएगा
चमाट दे फटाक से
डर नहीं तो घिस गयी
जो तेरी तीखी नाक ये
मांग बस खुदा से
हौसले की एक शबक रे
चीटियों की नस्ल पे ध्यान दे जरा
जो रो के ना उठाती दाना चीनी का
औकात को बदला दे
दिन है सात वो बदल दे
तेरा अगला पिछला
तू बदल ले के बदला
तू दूजे नज़रिये से देख
वो दिखेंगे दानव जो दिख रहे थे नेक
भेजे को खोल सामने तो देख
ऐसे किसी के सामने भी माथा ना टेक
देख तू ऊपर से
देख तू राईट से
भांप ले खतरा तू हर इक साइड से
सिक्के का तीसरा पहलु तू देख
मुसीबत को बोल दो घिसेंगे साइड पे
मसल का तोड़ अकल से दे
तू छोड़ना कसर नहीं
गाड़ मत बेइज़्जती के बीज उगेगी
गन्दी फसल ही गटर सी
जो काले उजाले में पलटी
फिर आगे ना जाके बदलती
रातों ने तुझको जो बदला
तू लेले तो खुद का बदला
यूँ डर के बैठ के ना हक्कगला
औकात को बदल दे
दिन है सात वो बदल दे
तेरा अगला पिछ्ला
तू बदल ले के बदला
बदल दे अपनी ढाक रे
दिन है सात वो बदल दे
तू बदला ले खचाक से
तेरा अगला पिछ्ला
तेज कर ले नाक ये
तू बदल ले के बदला
उसको धक्का दे धपाक से
बदला..