Street Celebrity is a hip-hop rap song showcasing the talent and passion of Kayden Sharma, the primary artist, singer, lyricist, and co-composer of the song. Karan Kanchan, the song's primary artist and co-composer, is responsible for producing and writing the song. The song is released under the music label Tseries, which promotes quality music in India.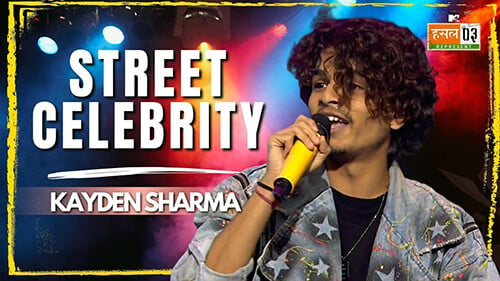 The Street Celebrity song lyrics are a tribute to Hyderabad, the hometown of Kayden Sharma. They praise the city's beauty, lifestyle, food, actors, and friendliness. The lyrics also reflect the confidence and pride of Kayden Sharma, who calls himself a street celebrity. They are energetic and engaging, using rhymes, wordplay, and slang to create a catchy and memorable rap.
The song is featured on MTV Hustle 03, a reality show featuring aspiring rappers from different parts of India. The MTV Hustle 03 Team, who have created a platform for showcasing the talent and diversity of Indian rap music, is in charge of directing the program. The show also mentors and guides the contestants, who compete for India's best rapper title.
STREET CELEBRITY SONG LYRICS
𝘏𝘺𝘥𝘦𝘳𝘢𝘣𝘢𝘥 𝘚𝘩𝘦𝘩𝘢𝘳 𝘒𝘢 𝘔𝘢𝘪𝘯 𝘚𝘵𝘳𝘦𝘦𝘵 𝘊𝘦𝘭𝘦𝘣𝘳𝘪𝘵𝘺,
𝘖𝘭𝘥 𝘊𝘪𝘵𝘺 𝘒𝘪 𝘚𝘭𝘢𝘯𝘨 𝘓𝘦𝘬𝘦 𝘈𝘢𝘺𝘢 𝘔𝘵𝘷,
𝘐𝘩𝘩 𝘒𝘪 𝘏𝘪𝘴𝘵𝘰𝘳𝘺 𝘔𝘦𝘪𝘯 𝘏𝘺𝘥 𝘊𝘪𝘵𝘺,
𝘋𝘦𝘧𝘪𝘯𝘪𝘵𝘦𝘭𝘺 𝘋𝘦𝘧𝘪𝘯𝘪𝘵𝘪𝘰𝘯 𝘈𝘶𝘵𝘩𝘦𝘯𝘵𝘪𝘤𝘪𝘵𝘺 𝘒𝘢 (𝘟2),
𝘉𝘪𝘳𝘺𝘢𝘯𝘪 𝘒𝘦 𝘕𝘢𝘮 𝘗𝘦 𝘚𝘢𝘣 𝘒𝘩𝘢𝘵𝘦𝘺 𝘗𝘶𝘭𝘢𝘰,
𝘈𝘴𝘢𝘭 𝘉𝘪𝘳𝘺𝘢𝘯𝘪 𝘒𝘩𝘢𝘯𝘦 𝘒𝘢 𝘏𝘢𝘪𝘯 𝘛𝘰𝘩 𝘏𝘺𝘥𝘦𝘳𝘢𝘣𝘢𝘥 𝘒𝘶 𝘈𝘢𝘰,
𝘈𝘢𝘵𝘦 𝘈𝘢𝘵𝘦 𝘚𝘢𝘧𝘢𝘳 𝘒𝘪 𝘞𝘢𝘫𝘢𝘩 𝘚𝘦 𝘚𝘢𝘳 𝘔𝘦 𝘋𝘢𝘳𝘥 𝘏𝘶𝘢 𝘛𝘰𝘩,
𝘐𝘳𝘢𝘯𝘪 𝘊𝘩𝘢𝘪 𝘒𝘪 𝘋𝘰 𝘊𝘩𝘶𝘴𝘬𝘪 𝘓𝘢𝘨𝘢𝘰,
𝘚𝘢𝘮𝘢𝘯𝘥𝘢𝘳 𝘕𝘢𝘩𝘪 𝘏𝘢𝘪𝘯 𝘠𝘢𝘩𝘢𝘯 𝘗𝘦 𝘓𝘦𝘬𝘪𝘯 𝘚𝘦𝘢𝘧𝘰𝘰𝘥 𝘔𝘪𝘭𝘵𝘢 𝘞𝘰𝘸,
𝘔𝘢𝘤𝘩𝘩𝘪 𝘔𝘢𝘳𝘬𝘦𝘵 𝘒𝘰 𝘎𝘢𝘺𝘦 𝘛𝘰𝘩 𝘒𝘢𝘳𝘵𝘦 𝘙𝘦𝘩𝘯𝘢 𝘍𝘪𝘴𝘩 𝘊𝘰𝘶𝘯𝘵,
𝘊𝘩𝘢𝘳𝘮𝘪𝘯𝘢𝘳 𝘒𝘦 𝘉𝘢𝘻𝘢𝘳 𝘒𝘢 𝘏𝘢𝘳 𝘚𝘦𝘭𝘭𝘦𝘳 𝘌𝘬 𝘐𝘤𝘩 𝘉𝘢𝘵 𝘉𝘰𝘭𝘵𝘢,
𝘏𝘦𝘭𝘭𝘰 𝘔𝘢𝘥𝘢𝘮! 𝘐𝘥𝘩𝘢𝘳 𝘔𝘪𝘭𝘵𝘢 𝘋𝘪𝘴𝘤𝘰𝘶𝘯𝘵,
𝘐𝘻𝘻𝘢𝘵 𝘋𝘪𝘯𝘨𝘢 𝘛𝘰𝘩 𝘋𝘰𝘶𝘣𝘭𝘦 𝘐𝘻𝘻𝘢𝘵 𝘋𝘦𝘵𝘦,
𝘔𝘰𝘵𝘢𝘣𝘢𝘳𝘪 𝘉𝘢𝘵𝘢 𝘛𝘦𝘬𝘶 𝘑𝘦𝘣 𝘔𝘦𝘪𝘯 𝘙𝘢𝘬𝘩 𝘒𝘦 𝘛𝘦𝘩𝘦𝘭𝘵𝘦𝘺,
𝘙𝘢𝘨𝘰𝘯 𝘔𝘦𝘪𝘯 𝘒𝘩𝘰𝘰𝘯 𝘕𝘢𝘩𝘪𝘯 𝘙𝘢𝘨𝘰𝘯 𝘔𝘦𝘪𝘯 𝘡𝘦𝘩𝘦𝘳 𝘏𝘢𝘪𝘯 𝘠𝘦𝘩,
𝘚𝘢𝘱𝘯𝘰 𝘒𝘪 𝘕𝘢𝘨𝘳𝘪 𝘕𝘢𝘩𝘪 𝘏𝘢𝘲𝘪𝘲𝘢𝘵 𝘒𝘢 𝘚𝘩𝘦𝘩𝘦𝘳 𝘏𝘢𝘪𝘯,
𝘙𝘦𝘢𝘭𝘪𝘵𝘺 𝘊𝘩𝘦𝘤𝘬 𝘔𝘪𝘭𝘵𝘢 𝘏𝘢𝘳 𝘋𝘰𝘰𝘴𝘳𝘪 𝘎𝘶𝘭𝘭𝘺 𝘔𝘦𝘪𝘯,
𝘐𝘥𝘭𝘪 𝘋𝘰𝘴𝘢 𝘚𝘦𝘵 𝘔𝘪𝘭𝘵𝘢 𝘏𝘢𝘳 𝘋𝘰𝘰𝘴𝘳𝘪 𝘎𝘶𝘭𝘭𝘺 𝘔𝘦𝘪𝘯,
𝘛𝘩𝘰𝘥𝘢 𝘍𝘭𝘦𝘹 𝘉𝘩𝘪 𝘒𝘢𝘳 𝘓𝘦𝘯𝘨𝘦 𝘒𝘺𝘢,
𝘒𝘢𝘺𝘥𝘦𝘯 𝘒𝘢 𝘌𝘬 𝘍𝘢𝘯 𝘔𝘪𝘭𝘵𝘢 𝘏𝘢𝘳 𝘋𝘰𝘰𝘴𝘳𝘪 𝘎𝘶𝘭𝘭𝘺 𝘔𝘦𝘪𝘯,
𝘏𝘺𝘥𝘦𝘳𝘢𝘣𝘢𝘥 𝘚𝘩𝘦𝘩𝘢𝘳 𝘒𝘢 𝘔𝘢𝘪𝘯 𝘚𝘵𝘳𝘦𝘦𝘵 𝘊𝘦𝘭𝘦𝘣𝘳𝘪𝘵𝘺,
𝘖𝘭𝘥 𝘊𝘪𝘵𝘺 𝘒𝘪 𝘚𝘭𝘢𝘯𝘨 𝘓𝘦𝘬𝘦 𝘈𝘢𝘺𝘢 𝘔𝘵𝘷,
𝘐𝘩𝘩 𝘒𝘪 𝘏𝘪𝘴𝘵𝘰𝘳𝘺 𝘔𝘦𝘪𝘯 𝘏𝘺𝘥 𝘊𝘪𝘵𝘺,
𝘋𝘦𝘧𝘪𝘯𝘪𝘵𝘦𝘭𝘺 𝘋𝘦𝘧𝘪𝘯𝘪𝘵𝘪𝘰𝘯 𝘈𝘶𝘵𝘩𝘦𝘯𝘵𝘪𝘤𝘪𝘵𝘺 𝘒𝘢,
𝘙𝘰𝘩𝘪𝘵 𝘚𝘩𝘦𝘵𝘵𝘺 𝘒𝘦 𝘐𝘥𝘦𝘢𝘴 𝘒𝘶 𝘉𝘩𝘪 𝘡𝘢𝘳𝘰𝘰𝘳𝘢𝘵 𝘔𝘦𝘳𝘦 𝘚𝘩𝘦𝘩𝘦𝘳 𝘒𝘪,
𝘙𝘢𝘮𝘰𝘫𝘪 𝘔𝘦𝘪𝘯 𝘉𝘢𝘯𝘵𝘪 𝘈𝘢𝘱𝘬𝘪 𝘉𝘭𝘰𝘤𝘬𝘣𝘶𝘴𝘵𝘦𝘳 𝘍𝘪𝘭𝘮,
𝘏𝘢𝘳𝘺𝘢𝘯𝘢 𝘒𝘢 𝘑𝘢𝘵 𝘏𝘰 𝘠𝘢 𝘎𝘶𝘫𝘫𝘢𝘳 𝘒𝘢 𝘊𝘩𝘩𝘰𝘳𝘢,
𝘚𝘢𝘣 𝘓𝘰𝘨𝘰 𝘒𝘶 𝘋𝘦𝘬𝘩𝘯𝘦 𝘒𝘢 𝘏𝘢𝘪𝘯 𝘚𝘰𝘶𝘵𝘩 𝘒𝘪 𝘐𝘤𝘩 𝘍𝘪𝘭𝘮,
𝘎𝘰𝘳𝘪𝘺𝘢 𝘉𝘩𝘪 𝘗𝘢𝘴𝘢𝘯𝘥 𝘒𝘢𝘳𝘵𝘪 𝘈𝘭𝘭𝘶 𝘈𝘳𝘫𝘶𝘯 𝘒𝘢 𝘋𝘢𝘯𝘤𝘦,
𝘚𝘵𝘺𝘭𝘪𝘴𝘩 𝘚𝘵𝘢𝘳 𝘉𝘰𝘭𝘵𝘦 𝘉𝘳𝘢𝘯𝘥 𝘏𝘢𝘪𝘯 𝘞𝘰𝘩 𝘉𝘳𝘢𝘯𝘥,
𝘛𝘶 𝘒𝘪𝘵𝘯𝘦 𝘉𝘩𝘪 𝘉𝘢𝘥𝘦 𝘉𝘢𝘱 𝘒𝘢 𝘉𝘦𝘵𝘢 𝘙𝘦𝘩𝘯𝘥𝘦 𝘐𝘥𝘩𝘢𝘳 𝘒𝘰𝘪 𝘉𝘩𝘪,
𝘑𝘩𝘶𝘬𝘦𝘨𝘢 𝘕𝘢𝘩𝘪 𝘗𝘶𝘳𝘦 𝘗𝘶𝘴𝘩𝘱𝘢 𝘒𝘦 𝘍𝘢𝘯𝘴,
𝘠𝘦𝘩 𝘕𝘢𝘨𝘢𝘳 𝘋𝘢𝘺𝘢𝘸𝘢𝘯 𝘉𝘢𝘥𝘢𝘭𝘥𝘦𝘵𝘢 𝘉𝘩𝘢𝘨𝘺𝘢,
𝘑𝘰 𝘈𝘢𝘵𝘢 𝘠𝘢𝘩𝘢𝘯 𝘗𝘦 𝘜𝘴𝘬𝘦 𝘏𝘢𝘵𝘩 𝘒𝘪 𝘓𝘢𝘬𝘦𝘦𝘳 𝘉𝘢𝘥𝘢𝘭 𝘑𝘢𝘵𝘪,
𝘒𝘪𝘵𝘯𝘦 𝘏𝘦𝘳𝘰𝘪𝘯𝘦 𝘗𝘳𝘰𝘮𝘰𝘵𝘦 𝘒𝘢𝘳𝘵𝘪 𝘕𝘶𝘥𝘪𝘵𝘺 𝘓𝘦𝘬𝘪𝘯,
𝘚𝘢𝘪 𝘗𝘢𝘭𝘭𝘢𝘷𝘪 𝘒𝘪 𝘚𝘪𝘮𝘱𝘭𝘪𝘤𝘪𝘵𝘺 𝘞𝘢𝘭𝘪 𝘉𝘢𝘵 𝘕𝘢𝘩𝘪 𝘈𝘢𝘵𝘪,
70 𝘔𝘪𝘭𝘭𝘪𝘰𝘯 𝘗𝘰𝘱𝘶𝘭𝘢𝘵𝘪𝘰𝘯 𝘛𝘦𝘭𝘶𝘨𝘶 𝘓𝘰𝘨𝘰 𝘒𝘪,
𝘗𝘩𝘪𝘳 𝘉𝘩𝘪 𝘉𝘪𝘭𝘭𝘪𝘰𝘯𝘴 𝘔𝘦𝘪𝘯 𝘝𝘪𝘦𝘸𝘴 𝘙𝘰𝘸𝘥𝘺 𝘉𝘢𝘣𝘺 𝘒𝘢𝘳𝘢 𝘊𝘰𝘯𝘲𝘶𝘦𝘳,
𝘕𝘢𝘵𝘶 𝘕𝘢𝘵𝘶 𝘍𝘳𝘰𝘮 𝘙𝘳𝘳 𝘔𝘰𝘷𝘪𝘦 𝘉𝘢𝘯𝘢 𝘍𝘪𝘳𝘴𝘵 𝘚𝘰𝘶𝘵𝘩 𝘍𝘪𝘭𝘮 𝘚𝘰𝘯𝘨 𝘛𝘰 𝘞𝘪𝘯 𝘈𝘯 𝘖𝘴𝘤𝘢𝘳,
𝘉𝘢𝘬𝘩𝘰𝘣𝘪 𝘕𝘪𝘣𝘩𝘢𝘵𝘦 𝘙𝘦𝘴𝘱𝘰𝘯𝘴𝘪𝘣𝘪𝘭𝘪𝘵𝘺,
𝘉𝘢𝘩𝘢𝘳 𝘞𝘢𝘭𝘰 𝘒𝘦 𝘓𝘪𝘺𝘦 𝘙𝘢𝘬𝘩𝘵𝘦 𝘍𝘶𝘭𝘭 𝘍𝘢𝘤𝘪𝘭𝘪𝘵𝘺,
𝘏𝘺𝘥𝘦𝘳𝘢𝘣𝘢𝘥 𝘒𝘶 𝘈𝘢𝘯𝘦 𝘞𝘢𝘭𝘦 𝘈𝘯𝘨𝘳𝘦𝘻𝘢𝘯 𝘉𝘩𝘪 𝘉𝘰𝘭𝘵𝘦𝘺,
𝘖𝘩 𝘔𝘺 𝘎𝘰𝘥 𝘐𝘵'𝘴 𝘈 𝘉𝘦𝘢𝘶𝘵𝘪𝘧𝘶𝘭 𝘊𝘪𝘵𝘺,
𝘏𝘺𝘥𝘦𝘳𝘢𝘣𝘢𝘥 𝘚𝘩𝘦𝘩𝘢𝘳 𝘒𝘢 𝘔𝘢𝘪𝘯 𝘚𝘵𝘳𝘦𝘦𝘵 𝘊𝘦𝘭𝘦𝘣𝘳𝘪𝘵𝘺,
𝘖𝘭𝘥 𝘊𝘪𝘵𝘺 𝘒𝘪 𝘚𝘭𝘢𝘯𝘨 𝘓𝘦𝘬𝘦 𝘈𝘢𝘺𝘢 𝘔𝘵𝘷,
𝘐𝘩𝘩 𝘒𝘪 𝘏𝘪𝘴𝘵𝘰𝘳𝘺 𝘔𝘦𝘪𝘯 𝘏𝘺𝘥 𝘊𝘪𝘵𝘺,
𝘋𝘦𝘧𝘪𝘯𝘪𝘵𝘦𝘭𝘺 𝘋𝘦𝘧𝘪𝘯𝘪𝘵𝘪𝘰𝘯 𝘈𝘶𝘵𝘩𝘦𝘯𝘵𝘪𝘤𝘪𝘵𝘺 𝘒𝘢 (𝘟2),

STREET CELEBRITY MUSIC VIDEO
The song Street Celebrity is a perfect example of how lyrics, music, and visuals can come together to create a fun and impressive experience. The song lyrics are witty, catchy, and inspiring. The music is upbeat, lively, and groovy. The visuals are stunning, colourful, and authentic. The song Street Celebrity is a must-listen for anyone who loves hip-hop rap songs or Hyderabad songs.
STREET CELEBRITY SONG DETAILS
Track Name
Street Celebrity
Singer(s)
Kayden Sharma
Lyrics Writer(s)
Kayden Sharma
Composer(s)
Karan Kanchan