Bhalobashi Lyrics by Ravneet Singh is the latest Hindi song. Ravneet Singh composed music, and the lyrics for Hindi track 'Bhalobashi' are written by Ravneet Singh.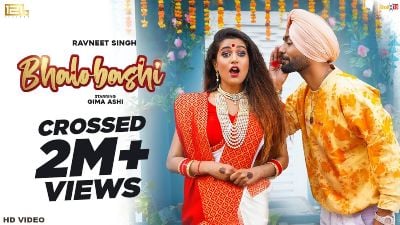 Bhalobashi Hindi SONG LYRICS • Ravneet Singh
Oh Bilo Tere Karke Aya Mein Ladke,
Purani Saheli Nal Breakup Karke,
Dil Ka Hain Locha Poora Din Socha,
Bas Apko Kehni Hain Baki,
Ho Ami Tumake Bhalobashi,
Ho Ami Tumake Bhalobashi,
Ankhiyon Se Mare Goli,
Lagdi A Tu Bangoli,
Naughty Nakhra Shaqal Se Bholi,
Khele Tu Ankh Michauli,
Gore Gore Gal Jaise Rassgula,
Tere Peeche Pada Mohala,
Inocent Si Dikhti Hain Tu,
Par Tu Hain Agg Ka Gola,
Main Jetha Te Tu Babita,
Nakhra Tera Meetha Meetha,
Famous Ho Gayi Tu Kolkata Se Kanshi,
Ho Ami Tomake Bhalobasi,
Suno Tumpa Tumpa Tumpa,
Mein Fan Ho Gaya Tumka,
Jyada Matak Matak Ke Chala Na Karo,
Lo Gir Gaya Tumhara Jhumka,
Ho Sab Kujh Tujpe Var Deyunga,
Kohinoor Ka Har Deyunga,
Promise Ravneet Ka Tujhko,
High Quality Pyar Deyunga,
Ho Dil Mein Bass Gayi Tu,
Dil Mein Bas Gayi Tu,
Jaise Rasode Mein Rashi,
Shona Babu Charmer,
Oh Ami Tomake Bhalobasi,
Ravneet Baby,
Ami To Tumako Bhaobashi,
Bhalobashi (Hindi) Music Video
Stream the Bhalobashi's delightful music video directed by Honey Rao.
Bhalobashi Lyrics is a newly released Hindi track by Ravneet Singh. Ravneet Singh composed the music for Bhalobashi. The lyricist Ravneet Singh penned-down the up-to-date lyrics of the Hindi song. Honey Rao directed the music video of 'Bhalobashi', released on February 14, 2021.