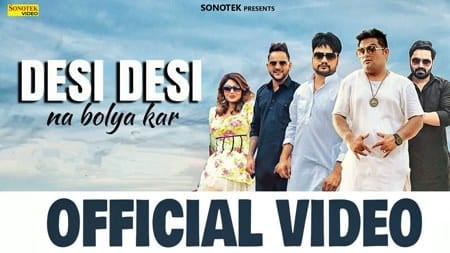 Desi Desi Na Bolya Kar Chori Re is an ear-catching Haryanvi song performed by Raju Punjabi with loving lyrics by KD and equally good music from VR Brothers. Aarambh Production is director of music film filming Raju Punjabi, MD KD, Vicky Kajla and Priyanka Tiwari, released by Sonotek Cassettes.
DESI DESI NA BOLYA KAR SONG LYRICS
Desi-desi na boleya kar chori re
Is desi ki fan ye duniya ho ri re,
(Meaning of song chorus: Don't call me a local/villager by judging me, girl, this world has started becoming my fan already.)
Meri maa bolay va boli na chhodu main
Ja meri taraf tay clear madam sorry re,
Desi-desi na boleya kar chori re
Is desi ki fan ye duniya ho ri re.
Vicky kajla! Kajla!
Manne babu geelya khet kamaa ke dekhya say
Mann tay bhari sar pay bharotta tekeya say,
Oh yaaran geleya desi daaru pee raakhi
'mare ghar tay chotii gaal mein madam theka say,
Thaa upar-neechay aana jana lifta mein
Hum kadd pay dhar ke lejaa kanak ki bori ray.
Desi-desi na boleya kar chori ray
Is desi ki fan ye duniya ho ri ray.
Desi-desi bol manne koyi baat naa
Par bolya pach khamkha naak na chadaya kar
Aur kite kaatiye tu jake angreji chaad,
Aakhran ki mere tay marod na dikhaya kar.
Ram-ram bol chori hi-hello chhod
Angrezi mein toh haath 'maara ghana tang say
Sehran aale kehte honge how are you?
'maare gaama mein toh seedha bole, "Ke dhang say?"
Nyu na soch hamne ya bolni na aati
Aisi bol deyange kahegi latth gaad diya
Pauwa peeya pacha bola angrezi, angrez bi nyu kahenge, wow chaala paat diya,
Mazaak na banaavai mere desipane ka
Chori desi rehna sehna manne gharke sikhawe say,
Dhoya-dhaya milay manne kurta pajama
Meri maa mere kaan talay kaala tikka laawe say,
Desi mere bol chori desi meri baat chori
Desi hai club chori aur desi mera gaana
Jis nay tu saari haana desi-desi khye ja say
Usay desi ne yo saara chaawe haryana
K.D! V.R .Bros.
Meri story bhot ghani dukh-dayak rai
Main ghar keyan ki nazran main tha nalayak rai,
Yo koneya kare padhayi la deyo kheti mein
Do saal ka maanga time m ban geya gayak rai.
Ajj fan following tere yaar ki .U.K mein
Aur tere jaisi kayi google pe bhi toh rayi rai,
Desi desi na bolya kar chori rai, is desi ki fan ye duniya hor ri rai.