Ismart Title Song Lyrics with promising vocals of Anurag Kulkarni filming Ram Pothineni with Nidhhi Agerwal is out now. Mani Sharma is director of music & "ISMART SHANKAR" title lyrics are summed-up by lyricist Bhaskar Batla with music programming done by Mahati Swara Sagar..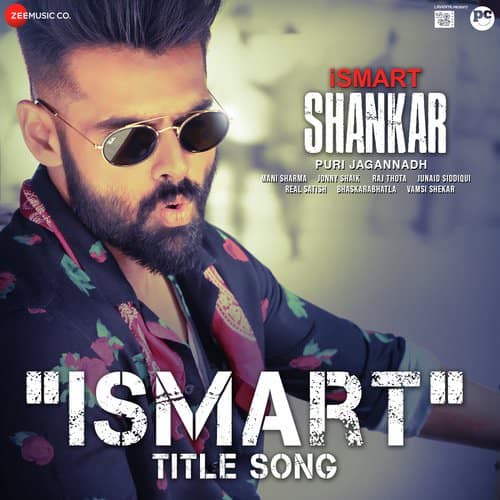 Name of Song: Ismart Title Song (Telugu)
Singer: Anurag Kulkarni
Lyricist: Bhaskar Batla
Music Director: Mani Sharma
Label: Zee Music Company
ISMART TITLE SONG LYRICS ANURAG KULKARNI
Pataa hai main kaun hoon?
Shankar ustaad ismart shankar!
Instrumental music
Gada bida laku befikar
Sadak sadak kadak pogar
Ishtyle dekho neeche upar
Ish-ish ismartu,
Naam boleto galli hadal,
Double dhimak undhi idhar,
Karle apni neeche nazar,
Ish-ish ismartu,
Hyderabad shahar mein
Poocho be saaley,
Charminar chadharghat antha naadhey,
Kiri-kiri-kiri-kiri!
Jesthe makirikiri,
Ha-ha! Ismart shankar!
Instrumental music!
Yeah! Beer esukunta bindasugunta,
Bam bhole shambho shiva,
Nanu viketodu duniyala ledu,
Yadunna naadhe hawa,
Edaina gani matter,
Chai batthi pe settle,
Tegaledhante agar,
Sar pe phod doon bottle,
Ismile emo kirrak brother,
Cut emo guram figure,
Akkad bakkad ek hee takkar,
Ismart shankaar,
Dhigindante khatham matter,
Makkeliragadhise meter,
Katak matak chatar batar,
Ismart shankar!
Haha-ha! Ismart shankar!
Aye bomma!
Nuv huu ante golkonda repair chesi,
Nee chethila pedtha,
Ninnu begum ni chesi qila meedha,
Kuso bedtha, kya bolthi, haan?
Chal be saale nilantollani mastu chushna!
Dil ne pathangila egareska poye,
Khaddu kha kheer ladki,
Naa kantla vadithe idisedhe ledu,
Pattestha uriki uriki,
Bas hei ek nazar,
Bajega dil ki bazar,
Dedunga banthi flower,
Gungroo gungroo gal gal,
Fida hua dekkhe shakal,
Love jestha rathri pagal,
Konivedatha kilo nagal,
Ismart shankar.
Nadum chusthe centimeter,
Venakostha kilometer,
Gift istha 7 seater,
Ismart shankar,
Hey ismart nuvvu thurum raa,