Kaise Hua Hindi Song Lyrics from Kabir Singh film with music composition & vocals of Vishal Mishra releases Today. The Shahid & Kiara filming music video for "KAISE HUA" has lyrics base from songwriter Manoj Muntashir. Check, Kaise Huwa full song lyrics in Hindi, English fonts.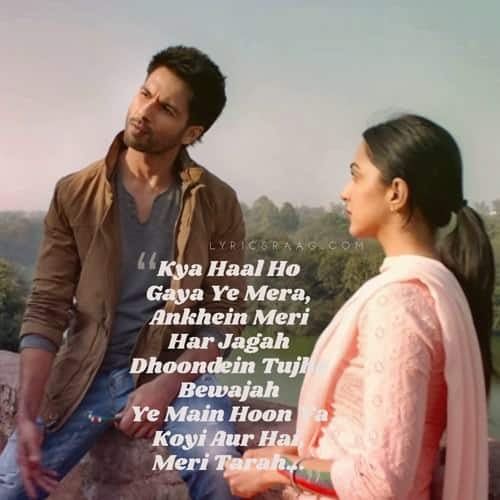 Name of Song: Kaise Hua (Hindi)
Film Title: Kabir Singh (2019)
Singers: Vishal Mishra
Lyricist: Manoj Muntashir
Music Director: Vishal Mishra
Label: T-Series
KABIR SINGH | KAISE HUA SONG LYRICS | HINDI
हस्ता रहता हूँ,
तुझसे मिलकर क्यूँ,
आज-कल….
बदले-बदले हैं मेरे तेवर
क्यों आज-कल,
आँखें मेरी हर जगह
ढूंढें तुझे बेवजह
ये मैं हूँ या कोई और है
मेरी तरह,
कैसे हुवा कैसे हुवा,
तू इतना ज़रूरी कैसे हुवा,
कैसे हुवा कैसे हुवा,
तू इतना ज़रूरी कैसे हुवा ।
मैं बारिश की बोली
समझता नहीं था
हवाओं से मैं यूं उलझता नहीं था,
है सीने में दिल भी
कहाँ थी मुझे ये खबर,
कहीं पे हो रातें
कहीं पे सवेरे
ये आवारगी ही रही साथ मेरे
ठहर जा, ठहर जा,
ये कहती है तेरी नज़र,
क्या हाल हो गया है मेरा,
आँखें मेरी हर जग़ह
ढूंढें तुझे बेवज़ह
ये मैं हूँ या कोई और है, मेरी तरह…
कैसे हुआ, कैसे हुआ,
तू इतना ज़रूरी कैसे हुआ,
कैसे हुआ, कैसे हुआ,
तू इतना ज़रूरी कैसे हुआ ।