Lost in the Summer is a pleasurable song, voiced by Vidya Vox. The songwriters Vidya Iyer & Shankar Tucker provided some nostalgic lyrics for it. Shankar Tucker also produces the music for this catchy track to Vidya Vox's latest track titled as Lost in the Summer.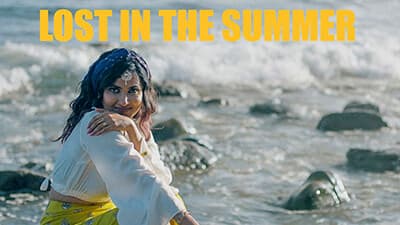 | | |
| --- | --- |
| Song Name: | Lost in the Summer |
| Singer(s): | Vidya Vox |
| Lyrics Writer(s): | Vidya Iyer, Shankar Tucker |
| Music Director(s): | Shankar Tucker |
VIDYA VOX – LOST IN THE SUMMER FULL SONG LYRICS
Summer nights Sea side hey
Red sun over low tide hey
Look inside of my eyes hey
Tell me what you see
Days come and days go by
Drive fast we live slow I'm in love but don't know why
Tell me what could be
Take your hand in mine
Aaja re, Well just take our time
Aaja re, let's be lost in the summer together
Life is easier
Aaja re O mere piya
Aaja re, If were lost in the summer
Forever and ever
You know you know
I love it how we take things real slow
I love it how we don't need to show
The world ain't got to know
Standing on the edge I dive in
Are we underwater breathing
Don't you know you got me reeling
I Can't let you go
In the sunset, There's a moment
After goodbye, Were still glowing.

Lost in the Summer Music Video