Get the Sehari Title Track Song Lyrics that Ram Miriyala vocalized and are featured in Sehari (2022) film of Simran Choudhary, Harsh Kanumilli. The lyrics writer Bhaskarabhatla wrote-down the Sehari Title Track's Telugu lyrics and Gnanasagar Dwaraka gave direction to the music video.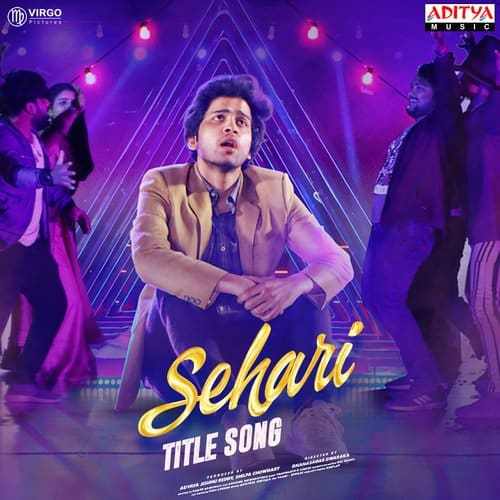 Sehari (2022) Telugu MOVIE • Sehari Title Track FULL SONG LYRICS
Kachda Kachda Hogaya Ardhamaithaledhaya
Achata Muchata Ledhaya
Vasa Padathaledhu Yendhayya
Yesina Peggu Esthavunna Kickke Vasthaledhe
Andhari Naseebu Rasinodu Nanne Dhekaledhe
Nanne Nanne Re Are Nanne Nanne Re
Lite Lelo Re Mass Step E Re
Nenadalanna Padalanna
Zindagilo Lehde Seheri Seheri
Chillavvalanna Navvalanna
Zindagilo Ledhe Seheri Seheri
Atu Itu Atu Itu Ani Ye Dhari Thochadhe
Manasuku Nilakada Lene Ledhe
Theliyani Vayasidhi Kadha
Edhedho Chesha
Thappantha Nadhe Nadhe
Oh My God-u Oho It's So Hard-u Oho
Arere Arere Life Ye Riskaipoye
Yegirane Innallu Ningi Anchullona
Dhoorane Korelli Panjarana
Ontariga Irukkupoyi Shoonyamlona
Na Swetcha Koraku Choosthu Unna
Nenadalanna Padalanna
Zindagilo Ledhe Seheri Seheri
Chillavvalanna Navvalanna
Zindagilo Ledhe Seheri Seheri
Seheri Seheri Choode Nannosari
Seheri Seheri Ledhe Vere Dhari
Seheri Seheri Vachhe Sarasari
Ipude Ipude Ipude Seheri Seheri
Sehari Title Track Music Video | Ft. Harsh Kanumilli | Simran Choudhary
Check out, the Sehari Title Track music video from Gnanasagar Dwaraka's Sehari (2022) film.
Sehari Title Track is an original Telugu track by Ram Miriyala. Prashanth R Vihari symphonized the music for Sehari Title Track from Sehari (2022). The songsmith Bhaskarabhatla documented the in-demand lyrics of the Telugu song. Gnanasagar Dwaraka directed the music video of 'Sehari Title Track', released on June 8, 2021.