Tamma Tamma Again Lyrics by Badshah with Bappi Lahiri & Anuradha Paudwal from Varun Dhawan and Ali Bhatt starrer film Badri Ki Dulhania (BKD) is party song whose music is reproduced by Tanishk Bagchi.Badshah has made the recreation fabulous with his interesting rap, and read lyrics here: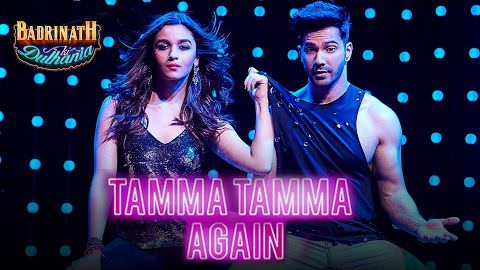 Meaning of Tamma Song from Badri Ki Dulhania: The words 'tamma tamma loge' don't mean anything exactly. As  'loge' is a Hindi word so might be said it means 'you will take', or 'will you take' and further tamma is not a Hindi word so makes us consider the entire phrase here has no meaning either.
TAMMA TAMMA AGAIN LYRICS | BADRINATH KI DULHANIA | BADSHAH
Tu premi, Yeah
Main premi, Control
Wait a minute
Main raazi, oh oh.
#Tu premi, aha!
Main premi, aha!
Tu raazi, aha!
Main raazi.
Phir kya daddy kya amma
Ek bas tuhi
Pyar ke kaabil
Sara jahaan hai nikamma
Tamma tamma loge
Tamma tamma loge tamma (x2).
Rakhun na baby koi bhi shanka
Apne pyar ka baja doon danka
Tere mere beech mein jo bhi aya
Uski laga doon lanka.
Chhod chhad ke dunia-dari
Bas tere peeche pad gaya,
Main Sapno mein toh already
Ghodi-wodi chad gaya main.
Mujhko baby lucky kar
Baat hamari paki kar
Itna kya soche
Mujhe haan bolke kaam tu naki kar.
Tujhe zarurat mere jaise yaar ki
Mujhe zarurat tere jaise yaar ki (x2).
Jale jo usko aur jalao
Nacho chhamma chham chhamma,
Tamma tamma.. Tamma tamma..
Loge..
Tama tama loge tamma
Tama tama loge (x4).