Lyrics for 'Ve Mahi' Hindi song from Kesari (2019) Bollywood film of Akshay Kumar. Arijit Singh performs 'Ve Maahi Lyrics' with Asees Kaur, written and composed by Tanishk Bagchi.
NOTE: English translations for this Hindi track are live now.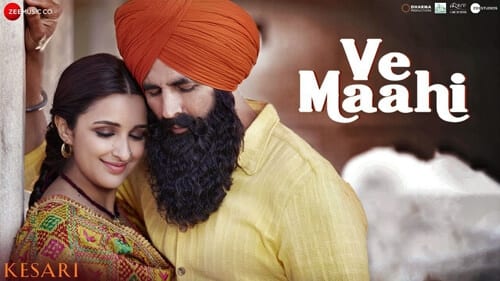 VE MAAHI LYRICS from KESARI FILM – This lovely romantic Hindi song has been hummed by immensely talented duo of
Arijit Singh
and
Asees Kaur
. These satisfying Hindi verses are inked well by  Tanishk Bagchi with its ear-soothing music production also done by Tanishk.
VE MAHI HINDI SONG LYRICS
Oh maahi ve,
Oh maahi ve,
Mahi mainu shaddeyo na,
Ke tere bin dil naiyo lagna,
Jithe vi tu chalna ae,
Mahi main tere piche-piche chalna,
Tu jee sakdi ni nai,
Main jee sakda nai,
Koi dusri main shartan vi rakhda nai,
Kya tere baajo mera.
Sachiyan mohabbtan ve,
Oh mahi kite hor naiyo milna,
Hor naiyo milna,
Jithe vi tu challeya haan,
Main mahi tere pishe-pishe chalna
Pishe-pishe chalna.
Instrumental break!
Oh mahi ve, oh mahi ve,
Dil wich tere yara mainu rehn de,
Aankhon se ye aankhon wali gal kehn de,
Dil vich teray yaara maino rehan de,
Ankhon se ye ankhon waali gall kehan de,
Dhadkan dil di ae tainu pehchane,
Tu meri hai main hoon teri,
Rabb vi ae jaane.
Tu reh sakdi nai, main reh sakda nai,
Tere bin yaara aur kite takda nai,
Kya tere bajo mera.
Rang tera chadeya ae,
Ke hun koi rang naiyo chadna,
Rang naiyo chadna,
Jithe vi tu chaleya haan,
Main mai tere piche-piche chalna,
Piche-piche chalna.
Instrumental break!
Mahi mainu chaddeyo na,
Ke tere bin dil nahiyo lagna,
Jithay vi tu challna ae,
Mahi main tere peeche-peeche challna (x2).
ओह माही वे, ओह माही वे,
माही मैनु छडियो ना के तेरे बिना दिल नइयो लगना,
जिथे वी तू चलना ऐ, माही मैं तेरे पिछे-पिछे चलना,
तू जी सकदी नयी, मई जी सकदा नयी,
कोई दूसरी मैं शर्तों वी रखदा नयी,
क्या तेरे बाजों मेरा ।
सचियाँ मोहब्बतां वे, ओह माही किते होर नइयो मिलना,
होर नइयो मिलना,
जिथे वी तू चलेया हाँ, माही मैं तेरे पिछे-पिछे चलना,
पिछे-पिछे चलना ।
ओह माही वे, ओह माही वे,
दिल विच तेरे यारा मैनु रहन दे,
आँखों से ये आँखों वाली गल्ल केहन दे -x2,
धड़कन दिल दे एह तैनू पहचाने,
तू मेरा है मैं हूँ तेरी, रब्ब भी एह जाने,
तू रह सकदी नयी, मैं रह सकदा नयी,
तेरे बिना यारा और किते तकदा नयी,
क्या तेरे बाजों मेरा ।
रंग तेरा चदया ऐ, के हूँ कोई रंग नइयो चढ़ना,
रंग नइयो चढ़ना,
जिथे वी तू चलेया हाँ, माही मैं तेरे पिछे-पिछे चलना
पिछे-पिछे चलना ।
माही मैनू छडियो ना के तेरे बिना दिल नइयो लगना,
जिथे वी तू चलना ऐ, माही मैं तेरे पीछे-पीछे चलना -x2