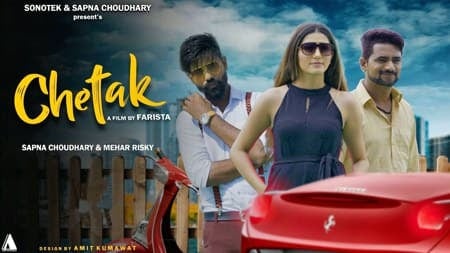 Yaar Tera Chetak Pe Chale is a one of the trending Haryanvi songs nowadays. The entertaining lyrics of song feature Sapna Chaudhary & Mehar Risky in music video directed by V Raj Bandhu. Raj Mawar is the vocalist and verses have been jotted down by Akkash Jangra.
YAAR TERA CHETAK PE CHALE HARANVI SONG LYRICS
Intro,
Tera mera mael milay na to kay fayeda is yaari ka,
Yaar tera chetak pe chaale,
Tanney chaska Red-Ferrari ka.
Main haan Risky!
Tera shoping roj bazaar bataa
Kitay tay karwave zamidar,
Honda aave tera risky pyar
Tu mange tu mehngi-mehngi car.
Naa karja karna manne kamana izzatdari ka.
Yaar tera chetak pe chale
Tane chaska red Ferrari ka.
Meaning of song chorus: He is singing to the girl comparing her to himself, "Your beloved (I) uses a Chetak scooter to go around while you're very much fond of Red-Ferrari (racing car) which he can't really afford for you."
Haan baapu gail aa yaraan nay khetan mai kari kamayi
Nashe pate te door rayaa na mehfil kade kamaayi
Isi heer life me tu aayi tera sapna uch udari ka.
Yaar tera chetak pe challey tanney chaska red feraari ka.
Ja teri-meri bane nahi ku khaame-kha faswaave
Akkash. Jangra baapu ke ghandke ke na daag lagaawe
Aakash jangda baapu ki pagri te na daag lagaawe
Bahu le'aun isi kare khyal mera
Bithre mai numbardari ka,
Yaar tera chetak pe challe tanne chaska Red-Ferrari ka.