Hodirale Halagi, with peppy lyrics, is a lively Kannada song from the movie Garadi, a comedy that will make you laugh and enjoy. The lyrics, written by Yogaraj Bhat, are catchy and playful, inviting the listeners to join the dance and have fun. The singer, Meghana Haliyal, gives a spirited performance, with her voice matching the song's upbeat tempo. The music, composed by V Harikrishna, is energetic and catchy, creating a festive mood for the song.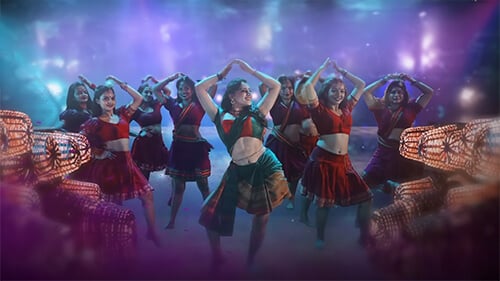 Hodirale Halagi is a song that will make you dance and smile. Don't miss this awesome song from Garadi, one of the most entertaining movies in Kannada cinema.
GARADI KANNADA MOVIE · HODIRALE HALAGI SONG LYRICS | HODIRI
Hodirale Halagi Hodirale Halagi
Na Nimma Kade Hudugi Thegirele Natagi
Balagaiyaga Dodda Kaddi
Edagaiyaga Shanna Kaddi
Nadu Batteli Charma Vadhya
Barrele Gangya Budya Ningya
Hodirale Halagi Hodirale Halagi
Na Nimma Kade Hudugi Thegireli Natagi
Onthottu Ennina Olagaku
Nindashtu Feeling Uh Horagaku
Geddaga Thode Thatti Kunibaku
Prasasthi Ede Thatti Hidibaku
Kadimi Kudidaru Kuduka Anthara
Hechhige Heerale Magana
Amalugannale Seeda Nodale
Hyanga Kunithavu Jaghana
Nimma Meesege Nanna Galla
Touching Adara Halla Gulla
Neevu Sikkidda Namma Soubhagya
Barrele Rangya Parmya Ragya
Hodirale Halagi Hodirale Halagi
Na Nimma Kade Hudugi Thegireli Natagi
Etthethi Batlina Kelagittu
Thilkolri Kelavondu Ola Guttu
Ennigu Hennigu Respect-u
Kotrana Gandsuru Perfect-u
Poliyagada Pyali Jeevana Phaida Illale Magana
Deed Thasina Mattige Nanna Agthiyenale Lagna
Green-u Signal Manjoorathi, Nana Kotmyala Innenaithi
Padko Barale Sukha Soulakhya
Barrele Basya Sidya Nagya
Hodirale Halagi Hodirale Halagi
Na Nimma Kade Hudugi Thegirele Natagi

Garadi Film's Hodirale Halagi Music Video | Nishvika Naidu
The music video, directed by Yogaraj Bhat, features the beautiful Nishvika Naidu and many co-dancers, who showcase their amazing moves and expressions. The song is a celebration of dance and its ability to bring joy and happiness to everyone.
Hodirale Halagi Song Details
Name of Song
Hodirale Halagi
Movie
Garadi
Lead Vocalist
Meghana Haliyal
Songwriter
Yogaraj Bhat
Composer
V Harikrishna
Lead
Nishvika Naidu