Ishqan De Lekhe Part 2 Song is the continued version of Sajjan Adeeb's famous Punjabi track. Manwinder Maan is the songwriter who penned the poetic Punjabi lyrics for Ishqan De Lekhe Lag Gayi latest version. Payal Rajpur is the actor featured in the music video for Ishqan De Lekhe 2 by Sajjan Adeeb.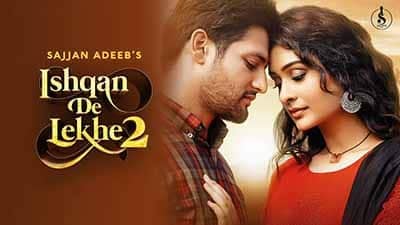 | | |
| --- | --- |
| Name of Song: | Ishqan De Lekhe 2 |
| Artist(s): | Sajjan Adeeb |
| Songwriter(s): | Manwinder Maan |
| Music Composer(s): | Desi Routz |
SAJJAN ADEEB | ISHQAN DE LEKHE LAG GAYI (CONTINUED) 2 SONG LYRICS
Das Hun Ki Kariye Tutiyan Ishq Diyan Tandan Nu
Mittiyan Ne Ajj Phir Chete Keeta Ae Chand'an Nu
Hun Tak Vi Samajh Paye Naa Kehde Si Vain Kude
Lagde Si Wang Maseetan Mainu Tere Nain Kudey
Das Kidaan Likh'ke Dasdaan Tere Muskaye Nu
Pee Gayi Koi Lehar Samundri, Tibbeyan De Jaaye Nu
Ohde Parchhavind Aa Vi, Sanu Koi Nai Disda,
Nakk Si Tikha Jeekan Akhar Koi English Da
Koh-Koh Si Kesal Mere Kaliyan Lahore Diyan
Ajjtak Nai Mitiyan Hiq Ton Paidan Teri Tor Diyan
Sada Taan Haal Soneya Bhatthi Wich Khil Warga,
Ya Phir Koi Sham Dhali Ton, Aashiq De Dil Warga
Ya Phir Koyi Shaam Dhali Ton, Aashiq De Dil Warga
Ainve Ni Jhaad'ke Palle Chare Hi Tur Jayida
Das Kahda Maan Soneya, Dehaan Di Burji Da,
Takda Si Subha Sawere Haye Naina Rateyan
Hunda Hai Ishq Tan Chabbna Nimma Deyan Patteyan Nu
Hunda Hai Ishq Taan Chabbna Nimma Deyan Patteyan Nu
Chhapdan De Kande Khadiyan Kaahi Diyan Dumniyan Ne
Sanu Taan Rabb Ton Vadhke Sajjna Diyan Mundiya Ne
Ladki Oh Jhumkeyan Wali Ajj Vi Sanu Pyari Aa
Bhawein Oh Bhul Gayi Karke Vaade Sarkari Aa
Hunda Hai Ishq Sohneya Rabb Da Hi Haani Ve
Bas Chehre Badli Jaane, Gall Turdi Jaani Ve
Gall Turdi Jaani Ve, Gal Turdi Jaani Ve.
Janma De Painde Te Thakavaatan Nu Bhul Gaye
Gal Kahda Laya Asi Paani Wangu Dul Gaye
Hawa Wich Rehnda Sadaa Udd'da Pyar Ae
Milna Milauna Sab Pindeyan Ton Paar Ae
Milna Milauna Sab Pindeyan Ton Paar Ae.
Ishqan De Lekhe 2 Music Video