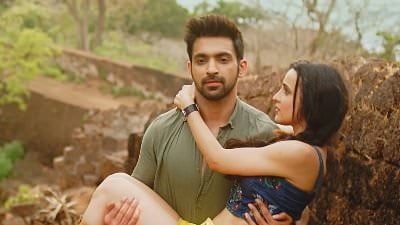 Main Jaandiyaan Lyrics with Translation in English (also spelled as Main Jandiyan or jaan di aan) from the most promising voice Neha Bhasin, is a soothing romantic song, she sang it with Piyush Mehroliyaa. The stars in music video of song are Sanaya Irani and Arjit Taneja.  Mintu Sohi is writer of lyrics to "MAIN JAANDIYAAN" track of Neha with its music production done by Meet Bros, released by MB Music.
Singers: Neha Bhasin, Piyush Mehroliyaa
Album: Main Jaandiyaan (Punjabi) Ft. Piyush Mehroliyaa
Music Composer: Meet Bros
Lyrics Writer: Mintu Sohi
Label: MB Music
MAIN JAANDIYAN NEW SONG LYRICS – NEHA BHASIN
Sun jaaniya haye,
Main jaan di aan -x2,
Sun jaaniya haye,
Pehchaan di aan,
Oh dear listen, I know and I recognize it.
Ho aankhon se hi dikhta hai
Dil wala pyar ve,
Duniya se darti na
Karun izhaar ve,
Love in my heart can be seen from my eyes,
But I don't express it in afraid of world.
Tere vi taan sar chadheya
Main jaan di aa,
Haye pehchan di aa, ho ho.
It's in your head too,
I know, I can notice it.
Ho ankhon se hi dikhta hai
Dil waala pyaar ve,
Duniya se darti na
Karun izhaar ve,
Tere vi ta sar chadheya
Main jaan di aa, pehchaan di aa.
Sun janiya, main jaan di aa.
Ud di phiran main lagge
Kujh khoya-khoya ve
Kade vi na mainu aidan mehsoos hoya ae,
I have been straying around like something of mine has lost,
I have never felt this before.
Zulfan nu chhed da ae karke bahane tu,
Hathan wich hath paunda
Jaane anjaane kyun,
You frequently keep finding excuses to touch my hair,
Why do you touch my hands like you're not aware of it?
Chori-chori akhan naal
Mainu kujh kehnda ae,
Dekhan jadon main te phir
Akhan pher laina ae,
You say something to me with your eyes,
And when I look at you, you just turn away like you were not looking.
Teriyan gallan de wich
Koyi gal adhoori ae
Das de tu mainu teri kedi majburi ae,
There is something incomplete in your conversations,
Which you haven't told me yet
Dear, what is constraining you, tell me?
Khaamosh akhan ki ne kehndiyan,
Main jaan di aa, haye pehchan di aa.
What silent eyes say,
I know, I can notice.
Vekhya jadon da tainu
Akhan wich reh gayi ae
Umran layi tu mere
Dil wich beh gayi ae,
My beloved, The moment I saw you for the first time is still flashing in my eyes,
And for the ages it made me fall in love with you.
Akhaan di nami vich milde
Sare jawaab oye
Chhad de tu dekhne nayi
Poore hone khaab ve,
The tears in your eyes are answers to my all queries,
Just leave it, Our dreams are worthless, we can't fulfill them,
Just don't dream of us anymore.
Haye lafz tere lagte hain
Meethi purwayi ve
Agg mere sinne wich tuhi taan laayi ve,
Jalta hai tu bhi toh yaara,
Your words seem to me like a soothing wind,
Yet you're the one responsible for lighting this fire of love in me,
Even you are also burning in it.
Main jaandiyaan haye pehchaandiyaan ho ho.
Sun jaaniya haye… Main jaandiyan.
I know it dear, I notice it,
Oh dear listen, I know it.