Matargashti Song Lyrics – Mohit Chauhan | Tamasha Movie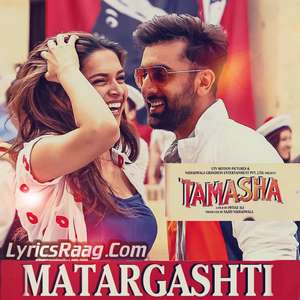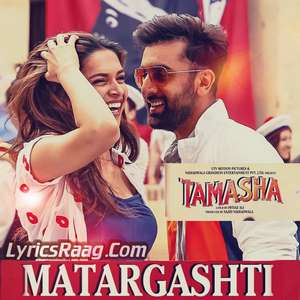 Song: Matargashti | Singer: Mohit Chauhan | Music: A.R. Rahman | Lyrics: Irshad Kamil | Film: Tamasha.
Matargashti Song Lyrics Sung by Mohit Chauhan From Tamasha Movie Featuring Ranbir Kapoor & Deepika Padukone. Lyrics Of Matargashti Are Penned by Irshad Kamil & Beautiful Music is Composed by A.R Rahman.
Matargashti Song Lyrics Mohit Chauhan Tamasha Ranbir Kapoor, Deepika Padukone
Matargashti Khuli Sadak Mein,
Takdi Tadak Bhadak Mein,
Aule Gire Sulagte Se, Sulagte Se, Sadak Mein,
Chhatri Na Thi Bagal Mein,
Aya Hi Na Aqal Mein,
Ke Bhaage Hum Ya Bheegein Hum,
Akkad Mein Toh Socha Phir,
Geela Hua Hai Wo Sukhana Ho,
Chaahe Janana Ya Mardana Ho,
Attachment Ka Naya Pasa,
Phir De Gayi Jhansa,
Aivein Hi Mujhe Fansa,
Chirkut Zindagi Yun Na.
Tu Hi Hai Woh,
Jisne Khenchi Meri Dhoti-dhoti Khenchi,
Ab Tu Dhoonde Kahan Bande,
Na Main Kaba, Kaashi,
Main Twitter Pe Hu Dp Meri Dekho.
Sun Re Sun Beliya,
Dil Ne Dhoka Diya,
Aankhen Mili Tumse Naazni,
Mere Hosho Hawaas Kho Gaye,
Dil Ka Bhanwar Bole Sun Sathiya,
Chhup Na Dupatte Mein Oh Chhaliya,
Prem Pujari Ke Dil Ka Bayaan,
Hota Raha, Rota Raha Priye,
Toh Phir.
If you like Hindi movies, don't miss the famous song "Matargashti" AKA "Sun Re Sun Beliya" from Tamasha.' This song's catchy tune and lyrics will get stuck in your mind. Mohit Chauhan's vocals are smooth and expressive, wonderfully expressing the song's mood. AR Rahman's song is bright and contagious, and the music video, with its spectacular graphics and intense dance, is a sensory overload. Don't just take our word for it; witness why "Matargashti" deserves all the attention. Whether you're a fan of 'Tamasha' or simply seeking some energetic and fun Hindi music, this song is worth a listen.