Mathuga Mathuga Lyrics from the Telugu movie 'Vikram' featuring Kamal Haasan is a tasteful song, and it has outstanding vocal music by Kamal Haasan. The grateful lyrics of the Mathuga Mathuga hit record are summed up by Chandra Bose. Anirudh Ravichander is the musician of MATHUGA MATHUGA's dreamy music. The immense music video of the poesy is mastered by Lokesh Kanagaraj.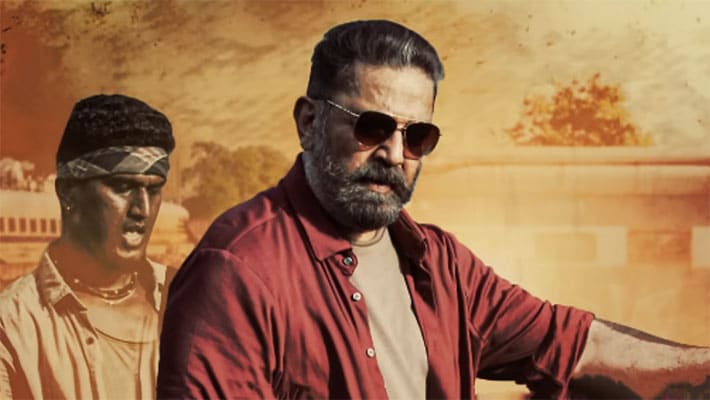 Let's stream Mathuga Mathuga Song Lyrics that Kamal Haasan graciously hummed and are featured in the Vikram film of Kamal Haasan . Chandra Bose has written down the Mathuga Mathuga Telugu lyrics and Lokesh Kanagaraj presided the music video.
VIKRAM TELUGU MOVIE · MATHUGA MATHUGA FULL SONG LYRICS
Mathuga Mathuga, Mandhu Mathuga,
Maguva Mathuga, Lene Ledhantra
Kotta Beetunu, Kottandra Kotra
Chittuga Kummi, Chittuga Kummi,
Pachadi Chesthe, Sachipothav Ra
Na Saththuva Chudandra Nee Aiya
("Hey, What Language Is This?
What Are You Talking About, Man?")
Eedu Jebula Donga Janu,
Eedu Poramboku Premu,
Okato Number Katharnaku, Bladu Babji Eedu,
Eedu Thagu Bothu Somu,
Eedu Thirugubothu Seenu,
Thella Powder Mukkuloki, Peelchukune Team,
Re Thala Gundunu Kottinche Adadhanni Nammodhu,
Valalona Padoddhu, Emari Povaddhu,
Avakaya Lagandi, Mandhu Mellaga Thagandi,
Madya Madyalo Agandi, Majjigannam Thinandi,
Kajanalo Paisallev, Galalona Paisalle
Darunalu Peruguthunte, Thagge Thagge Dharulle
Painunnode Thappanta, Pedhollantha Thappanta,
Donga Chethiki, Thalalisthe Emlemi Migille
Cheruvolona Nadhulona, Plotlu Chesi Ammethe
Chinna China Jallevasthe Ooru Motham Godhare
Jarigedhi Anthanuv, Choosthunnavu Rallara
Nuve Vachi Prayatnisthe, Rathalanni Marera,
Vado Pedhda Kothi, Kadiki Ledhu Neethi,
Kulamantu Mathamantu, Laguthadu Dhothi,
Vaccine Esinaka, Vachpove Venaka
Bhalle Bhalle Bhalle Bhale, Bhale Bhale Mama
Re Thala Gundunu, Kottinche Adadhanni Namadhu,
Valalona Padodhu, Emari Povodhhu,
Avaklaya Lagandhe, Mandhu Mellaga Thagandi,
Madhyamadyalo Agandhi, Majjigannama Thinandhi,
Bass! Ramma Janaki Kootheyi.

Mathuga Mathuga Full Song
Vikram Film's Mathuga Mathuga Music Video | Kamal Haasan
Play the newest music video for Mathuga Mathuga from a immense movie Vikram.
Mathuga Mathuga Song Details
📌 Name of Song
Mathuga Mathuga
🎞️ Movie
Vikram
🎤 Vocalizer
Kamal Haasan
✍️ Lyricist
Chandra Bose
🎼 Music Producer
Anirudh Ravichander
🧑 Lead
Kamal Haasan