The most recently released Punjabi song of Sunanda is Morni and this song has its admirably lyrics noted down by Jaani. This track has enjoyable, lively urban-Punjabi music beats which are flawlessly produced, mixed by Sukh-E Muzical Doctorz. Much awaited Punjabi music video of "MORNI" has direction from Arvindr Khaira and has been released by Amar Audio, it's the music company that acquires full audio, video rights of song.
MORNI LYRICS from SUNANDA SHARMA – a wonderful music number from the music sheet of Jaani & Sukh-E. Listeners of song have been searching for the Hindi meaning song "Morni Lyrics" which are shared below. If you're interested to read English translation of Punjabi verses of Sunanda Sharma's this song, we have also added it this website on higher user demands.
SUNANDA's SONG MORNI MEANING NEW WITH LYRICS
Main le gayi tera dil-dil-dil -x4,
Ho morni de wargi ae tor di kudi,
Oh munde mainu kehnde aa lahore di kudi,
Oye hoye oye morni de vargi aa tor di kudi,
Munde mainu kende aa lahore di kudi,
Akhan naal maardi nishane khich ke,
Danger aa full 12 bore di kudi,
Ve tere sinne wajjan giyan,
Tere sinne wajjan giyan,
Mere kanna wich waaliyan paaiyan,
Ve laiju tera dil kadd ke,
Oh laiju tera dil kadd ke,
Je tu mere naal akhiyan milaiyan,
Je tu mere naal, mere naal
Mere, mere, mere…..
Mainu laiju tera dil kadd ke
Dil kadd ke,
Je tu mere nal akhiyan milayian.
Ve main mar gayi
Ni vekho kina sona dance jeya karda,
Haye main margi
Ni vekho
Kina sohna dance jeha karda,
Munda chahida mainu
Jama Justin Bieber warga,
Mere naal photo'an khichaun vaste
Door-door baithe munde chase karde,
Suneya main hun Bollywood wale vi
Mere gore rang di praise karde,
Ho mere karke ve,
Oh karke ve
Honiya ne teriyan chadaiyan.
Main lai ju tera dil kadd ke -x3,
Je tu mere nal akkhiyan milaaiyan.
Oh mere Jaani
Main gaani, tere naa'  di gal wich pawaan -x2,
Mera supna main tere
Haye likhe hoye gaane gawaan,
Mere kolo khud nu bachaake rakh lai,
Kala tikka bebe ton lawaa ke rakh lai,
Laiju tainu purse ch paake sohneya
Teri akh thalle til tu chhupa ke rakh lai.
Ho mere nakhre ne
Haye mere nakhre ne
Tha-tha goliyan chalaiyan.
Mai leju tera dil kad ke -x3,
Jey tu mere nal akhiya milaiya.
Muzical doctor!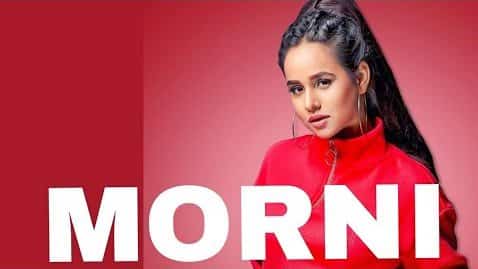 Song information:
Song Title:
Morni (Punjabi)
Artist(s):
Sunanda Sharma
Lyrics Writer(s):
Jaani
Video Director:
Arvindr Khaira
Music Director:
Sukh-e Muzical Doctor
Label:
Amar Audio
​