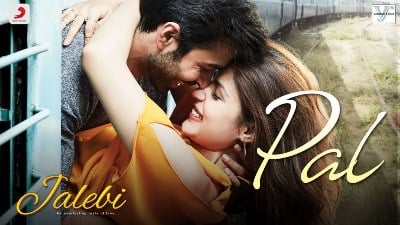 Pal Lyrics from the latest Hindi film Jalebi – This romantic song is hummed by the most likeable duo of Arijit Singh & Shreya Ghoshal.  Javed – Mohsin are composers of soothing music with the passionated lyrics of "PAL" well jotted down by Prashant Ingole & Kunaal Vermaa.
Update: The English transaltion of Pal song lyrics have been added here.
ARIJIT SINGH's PAL SONG LYRICS NEW
Pal ek pal
Mein hi tham sa gaya,
Tu haath mein haath jo de gaya,
Chalun main jahan jaaye tu
Daayein main tere baayein tu,
Hoon rut main hawayein tu, saathiya.
Hasun main jab gaaye tu
Ro'un main jab murjhaye tu
Bheegun main barsaaye tu, sathiya.
Saaya mera hai
Teri shakal
Haal hai aisa
Kuch aajkal,
Subha main hoon
Tu dhoop hai,
Main aayina hoon
Tu roop hai
Ye tera saath khoob hai humsafar.
Tu ishq ke saare rang de gaya
Thi kheech ke apne sang le gaya
Kahin bhi kho jayein chal
Jahan ye ruk jaaye chal
Kabhi na phir aaye kal sathiya.
Ek maangay agar 100 khwaab du,
Tu rahey khush main aabaad hu
Tu sab say juda-juda sa hai
Tu apnee tarah-tarah saa hai
Mujhay lagta nahee hai tu doosra.
Pal ek pal mein hi tham sa gaya
Tu hath mein hath jo de gaya,
Chaloon main jahan jaye tu
Daayein main tere baayein tu
Hoon rut main hawayein tu sathiya.
Hasun main jab gaye tu
Ro'un main murjhaye tu
Bhigun main mbarsaye tu sathiya.
Above is music video of song "Pal with its lyrics" starring Varun Mitra and Rhea Chakraborty from Jalebi film.