Jassa Dhillon's latest Punjabi Song 'Sir Tera Pyar Bolda Jatta Chadke Lyrics' with music direction from Gur Sidhu. Check out 'Pyar Bolda Lyrics' by Jassa Dhillon.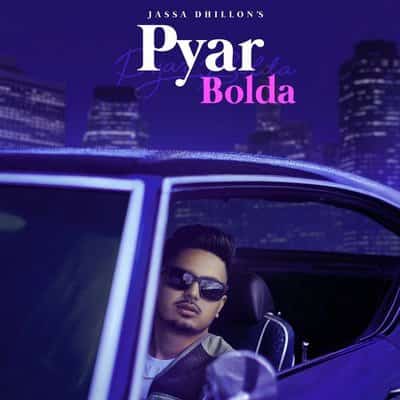 Name of Song: Pyar Bolda (Punjabi)
Singers: Jassa Dhillon
Lyricist: Jassa Dhillon
Music Director: Gur Sidhu
Actor(s): Jassa Dhillon & Mandeep
Video Director: Japjeet Dhillon
Label: ℗ 2019 Brown Town Music
PYAR BOLDA FULL SONG LYRICS BY JASSA DHILLON
Sir Tera Pyaar Bolda Ae Jatta Chad Ke
Naal Mere Gall Kar,
Kol Mere Khad K
Kaaleyan Naina 'Ch Akhan Laal Pa Ke Dekh Lai,
Jaan Meri Nikle Dunali Teri Badke,
Sir Tera Pyar Bolda Ae Jatta Chad Ke (X3).
Tu Bada Mashoor Ve ,
Nira Ae Tu Noor Ve
Mitha Bada Lagda,
Ghoor Da Saroor Ve,
Raah Jithe Hon Na Khtam Laija Door Ve,
Sun Mere Beliya Main Hoyi Majboor Ve
Ruk-Ruk Saah Challde,
Ishq Vich Vadke
Sir Tera Pyaar Bolda Ae Jatta Chadke (X3).
Jadon Kite Sun Je Awaaz Kann Fire Di,
Ve Osay Wele Kardi Dua Main Teri Khair Di,
Ve Yaari Teri Taaweyan Naal Ginti Naa Vair Di
Tohar Teri Dekh K Mandeer Sarhe Shehar Di
Dil Bada Darrda,
Summon Tere Padke.
Sir Tera Pyaar Bolda Ae Jatta Chad Ke (X3).
Nakhro Da Sawla Hi Rang Ve,
Ho Nakhro Di Tu He Bas Mang Ve,
Add Teri Jasseya Ve Horan Naalo Gall,
Kadda Kiwein Din Mera Langda Nai Pal ,
Nabed Sara Masla Te Kar Koi Hall,
Saambh Lau Zaman Sara Naal Mere Chall,
Kho Lau Tainu Rabb Toh,
Lekhan De Naal Ladke,
Sir Teraa Pyaar Boldaa Ae Jatta Chad Ke (X3).