Taare Lyrics from Punjabi sad / romantic songs: The tune is beautifully hummed by Guru Randhawa and apparently he also composed the lyric while music is given by Rajat Nagpal and T-series powered the whole presentation.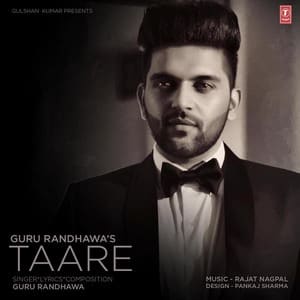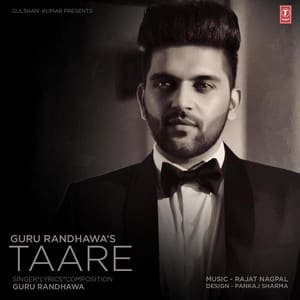 Singer: Guru Randhawa
Music Composer: Rajat Nagpal
Lyricist: Guru Randhawa
Video Director: Jagmeet S, Ashish Rai
Music Label: T-series
The song taare is a slow soothing Punjabi melody with its lyrics and vocals from extremely talented artist Guru Randhawa, video track is produced by Ashish Rai & Jagmeet S.
GURU RANDHAWA's TAARE SONG LYRICS
O tere laare te
Ambraan de taare mukde  na (x2),
Jo de gayi ae hanju
Akhiyan cho meri sukde na.
Oh tere laare te
Ambran de taare mukde na (x2).
De gayi ae tu rona mainu zindagi da
Hun das ki kara main
Es zindagi da.
Kiti bewafai tainu sharam na ayi
Je tu chhad ke hi jana si te
Fer kahton laayi.
Jidaan mainu tu lutya
Odaan dushman vi haye lutde na.
#O tere lare te, ambran de tare mudke na (x2).
Jina main kita tenu
Na kise karna tenu,
Pyaar….
Pyar je mil jaave
Boote ishqe de sukde na.
_O tere laare te
Ambraan de laare mukde na (x2).
Jo de gayi aein hanju
Akhiyaan cho mere sukde na.
O tere laare te
Ambraan de laare mukde na (x2).