After delivering a wonderful song 'Meri Sardarniye,' The heart-throb vocalist 'Ranjit Bawa' releases a new Punjabi song 'Ja Ve Mundeya' whose magnificent lyrics are penned by writer Maninder Kailey.The situational music tune is created by Desi Routz and lively video of the demanding track is made by Frame Singh team.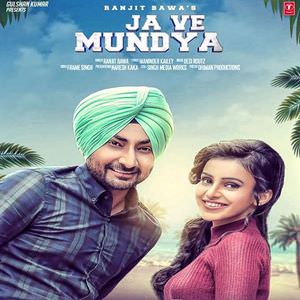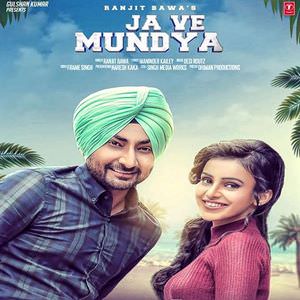 Album: Ja Ve Mundya

Artists: Ranjit Bawa

Lyricist: Maninder Kailey

Music Director: Desi Routz

Video: Frame Singh

Label: T-series
Basically Ja Ve Mundeya Lyrics is a Punjabi number which is beautifully sung by Ranjit Bawa with its music composed by Desi Routz.You can read 'JA VE MUNDEYA' full song lyric which are crafted from the hands of Maninder Kailey.
JA VE MUNDEYA LYRICS – RANJIT BAWA
Baddlan ton paar di tu gapp chad da
Duniya vi sajjna tu tapp chad da (x2),
Jhooth da banayi ve tu mehal rakhda
Haunsle na bolda kade ni thakda.
Aap fas jaana bolke tu jhalla baala ae
Fas jana bol ke tu jhalla baala ae
Ja ve mundya….
Mundeya ve bas tu taan gallan wala ae
Ve ja ve mundeya (x2).
Jhootheyan de pind vich rehn waleya
Khade per utte mukar tu jaana ae,
Jhootheya de pindd wich rehan waleya
Khade per utte mukkar tu jana ae,
Samajh nai aundi aina kyon ae chalaak
Har time tere muh te bahana ae.
Es dunia de vicho tu awalla baala ae
Duniya de vichon tu awalla bala ae
Ja ve mundeya.
Mundeya ve bas tu taan gallan wala ae
Ve ja ve mundeya (x2).
Ho kadon main keha si laike aayin Jaguar
Ainvaye number banauna maar gediyan,
Oye kado main keha si laike ayin jaguar
Ainvaye number banauna maar gediya.
Tere 32 bore te jo hon impress
Mainu pata oh kudiyan ne kediyan.
Unjh ghar deyan samne shareef baala ae
Ghar-deyan saamne shareef baala ae
Ja ve mundya…
MUNDEYA VE BAS TU TA GALLAN WALA AE
VE JA VE MUNDEYA (X2).
Kine saal ho gaye mainu wich rehndi nu ve
Jeda mehal tu banaya gallan jod ke (x2),
Tereyan farebaan nu main jaan di aan 'Kailey'
Chit karda ni jawaan dil tod ke.
Tere pyar ne zubaan te lawaya taala ae
Pyar ne zubaan te laway tala ae
Jaa ve mundeyaa.
Mundeya_ve_bas_tu_taan_galan_vala_ae
Ve_ja_ve_mundeya_(x2).