Phir Milenge Lyrics from the Urdu album 'Coke Studio Season 14' is a lovely song, and it has alluring verse by Talha Yunus, Talha Anjum, Faisal Kapadia. The cool lyrics of the Phir Milenge single are provided by Adnan Dhool, Talha Anjum, Talha Yunus. Xulfi, Abdullah Siddiqui is the arranger of PHIR MILENGE's tasty music. The eye-popping music video of the number is commanded by Zeeshan Parwez.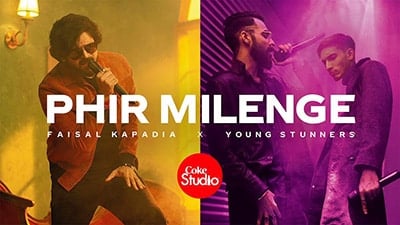 Coke Studio Season 14

Album

Adnan Dhool, Talha Anjum, Talha Yunus

Lyrics

Xulfi, Abdullah Siddiqui

Music Director
COKE STUDIO SEASON 14 URDU ALBUM · PHIR MILENGE FULL SONG LYRICS | FAISAL KAPADIA, TALHA ANJUM, TALHA YUNUS
Dil Ke Kisi, Konay Mai Hi, Yad Teri,
Maine Chupa Rakhi Hai, Chupa Rakhi Hai,
Bhoola Nahin Tu Bhi Mujhe Bat Yun Hi,
Maine Bana Rakhi Hai, Bana Rakhi Hai,
Samaya Tha Dil Mein Woh Aise
Anjane Do Milte Phir Kaise
Tum Barish Main Bheege Hum Behte,
Samandar Kinare Jo Rehte,
Umeedain Laga Ke Woh Baithe,
Jo Apno Ke Gham Woh Bhi Sehte,
Yeh Duniya Tou Chahti Ke Behkain,
Yeh Bagh Isi Khushboo Se Mehkain,
Mile Dard Bohat Kabhi Tu Bhi Mill,
Dil Main Rehti Nae Janam Tu Hi Dil,
Aaj Phir Ayi Na Tu Intezar Raha Mustaqil,
Taweel Hai Ghum Ki Sham Kahani Muhabbat Ki Mukhtasir,
Nazarsani Karo Zara Si Qadar Karo Meri Kala Ki,
Janay Walay Chalay Jate Hain Kismatain Hi Tou Qaboo Main Nahi Ati,
Chhaon Mei Dhoop Ki Tarah Jism Main Rooh Ki Tarhan,
Guzre Dimag Se Yad Teri Lagatar Lahoo Ki Tarhan,
Ab Khaye Jayein Yeh Dar O Dewar Mujhe Kisi Bhookh Ki Tarhan,
Tere Bina Nahi Ghar Bhi Ghar Akailay Mehsoos Yeh Kiya,
Teri Kami Puri Huyi Na Aj Bhi Rahi Aik Dil Main Khala,
Khiza Bhi Ayi Barwaqt Aur Dil Ka Bagh Bhi Raha Na Hara,
Tera Hee Aitebar Baki Sari Duniya Pe Bharosa Nae Bana,
Tu Mujmein Dekhay Insan Baki Sari Duniya Ko Dikhay Bus Kalla,
Tu Hai Main Hoon Aur Gehri Khamoshi,
Hum Dono Hee Nae Sunte Jo Kuch Bhi Yeh Kehti Hogi,
Gali Hai Dil Ki Tang Ab Tera Us Main Ana Na Ho,
Dil Ke Muhalle Mei Ab Teray Mera Jana Na Ho,
Tu Hai Main Hoon Aur Sirf Faslay Hain,
Rabte Munqata Aur Muntazir Hum Apkay Hain,
Raz Hee Nae Razdar Bhi Kiya Mangte,
Hum Khamiyoun Pe Parday Log Kam Hee Yahan Dalte Hain,
Hum Sirhanay Rakh Ke Khuwab Ratain Jagte Hain,
Hum Tumhain Tum Se Bohat Behtar Jante Hain,
Sargoshi Main Loon, Nam Tera Teray Liye Main Ne,
Haya Rakhi Hai Haya Rakhi Hai,
Bhoola Nahi Main Bhi Tujhe
Mere Liye Maine Saza Rakhi Hai, Saza Rakhi Hai,
Zindagi Pe Likh Chuke Hain Falsafe,
Itni Dil Lagi Ke Khud Ko Hee Na Parh Sake,
Beqadar Tou Dar Badar Youn Bekhabar Hi Chal Pade
Yadein Kheenchti Hain Aage Hi Na Bhadh Sake,
Sadgi Ban Chuki Hai Abaajzi,
Muntazir Kharay Ussi Makam Pe Hum Aj Bhi,
Aaj Phir Tu Ayi Nae Aj Phir Tu Shairi
Aaj Phir Tu Aik Guman Yad Teri Khayegi,
Woh Thi Meri Raza Ab Dua Ban Gayi,
Ayee Mere Khuda Kiya Saza Badh Gayi,
Main Jagoun Sari Rat Woh Subah Ban Gayi,
Garaj Ke Baraste Ab Yeh Badal Nahi,
Tu Mere Har Dard Ki Dawa Mein Dhoop Main Khara Mehsoos Kar Zara,
Mausam Badalte Ve Dekhain Hain Logoun Ke Badalte Roop Ki Tarhan,
Shamil Hain Ab Teray Dewanoun Main Milain Gai Khuwabon Main,
Rehte Khayaloun Main Uljay Sawaloun Main,
Kya Tum Pehchano Gai Ya Phir Mehmanon Se
Kaise Bharosa Karain Ab Insanoun Pe
Tu Hi Khwab Tu Hi Meri Khwahish,
Tu Hi Ehsas Main Bayaban Tu Barish,
Milain Gai Phir Kabhi Umeed Bhi Tu Aas Bhi,
Khuli Kitab Karte Zakhmoun Ki Numaish,
Kahani Kahan Khatam Hoti Hai,
Puri Nae Har Qasam Hoti Hai,
Phir Milain Gai Kabhi Ajnabi Ki Tarhan,
Iss Ass Ne Dil Main Subah Rakhi Hai,
Subah Rakhi Hai Subah Rakhi Hai.

Phir Milenge Full Song | Talha Yunus, Talha Anjum, Faisal Kapadia
Play the unique music video for Phir Milenge from a eye-popping album Coke Studio Season 14.
Let's play Phir Milenge Song Lyrics that Talha Yunus, Talha Anjum, Faisal Kapadia appealingly hummed and are featured in the Coke Studio Season 14 album. Adnan Dhool, Talha Anjum, Talha Yunus has jotted down the Phir Milenge Urdu lyrics and Zeeshan Parwez focusedthe music video.