Maine Pucha Chand Se Lyrics in English & Hindi fonts with cover song of Rahul Vaidya RKV from album Bollywood Unwind – Session 5 –Romantic Classics in a relaxing urban avatar. The original classic Hindi song 'Maine Poocha Chand Se' has been sung by Mohammed Rafi and is composed by R.D. Burman from Abdullah (film) with lyrics in Hindi from songwriter Anand Bakshi. .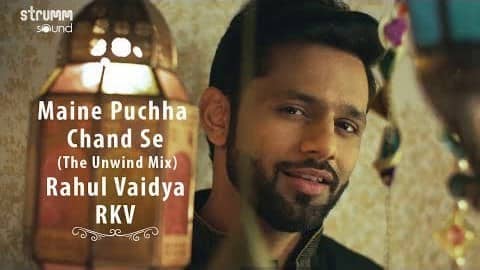 Name of Song: Maine Poocha Chand Se (Hindi)
Movie Name: Abdullah (1980)
Singers: Mohammed Rafi, Rahul Vaidya RKV (Cover)
Lyricist: Anand Bakshi
Music Director: R.D. Burman
Label: Strumm Sound
MAIN PUCHA CHAND SE HINDI SONG LYRICS
मैंने पुछा चाँद से के देख है कहीं
मेरे यार सा हसीं
चाँद ने कहा चांदनी की कसम,
नहीं, नहीं, नहीं ।
मैंने पुछा चाँद से के देख है कहीं
मेरे यार सा हसीं
चाँद ने कहा चांदनी की कसम,
नहीं, नहीं, नहीं,
मैंने पुछा चाँद से ।
मैंने हिजाब तेरा ढूंढा,
हर जगह शबाब तेरा ढूंढा,
कलियों से मिसाल तेरी पूछी,
फूलों ने जवाब तेरा ढूंढा,
मैंने पुछा बाग़ से फलक हो या ज़मीन,
ऐसा फूल है कहीं ?
बाग़ ने कहा हर कली की कसम
नहीं, नहीं, नहीं ।
ओ, चाल है के मौज की रवानी
ज़ुल्फ़ है की रात की कहानी,
होंठ हैं के आईने कँवल के,
आँख है के महकदों की रानी,
मैंने पुछा जाम से फलक हो या ज़मीन,
ऐसी मह भी है कहीं
जाम ने कहा मेहकशी की कसम
नहीं, नहीं, नहीं ।
मैंने पुछा चाँद से के देख है कहीं
मेरे यार सा हसीं
चाँद ने कहा चांदनी की कसम,
नहीं, नहीं, नहीं
मैंने पुछा चाँद से ।
Rahula Vaidya's cover song.
Maine Poochha Chand Se music video in voice of Mohammed Rafi from Abdullah (1980) classic Hindi film.